Kayaking The Lido Key Mangrove Tunnels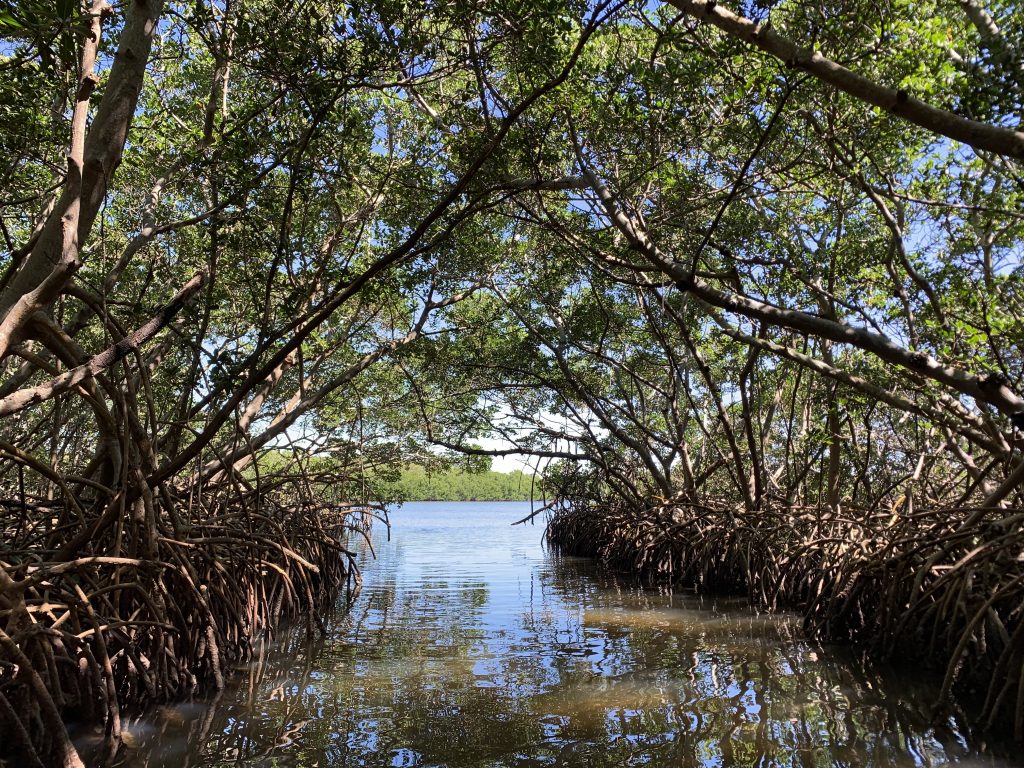 On the south end of Lido Key, just south of Longboat Key, is Ted Sperling Nature Park and access to the Little Sarasota Bay. The gulf coast of Florida offers myriad water adventures, but none are more magical than kayaking through the mangrove tunnels at Lido Key.

The waters of Little Sarasota Bay put you in close proximity to small fish and marine life hiding in the seagrass, large ospreys, herons, and other waterfowl, as well as manatees, dolphins, stingrays, and many other types of marine life. You'll also discover the magical mangrove tunnels, which are in close proximity to Sarasota but feel like another world.
What are the Lido Key Mangrove Tunnels?
One of Florida's best-kept secrets, the mangrove tunnels are an awe-inspiring testament to nature's imagination. Mangroves are trees and shrubs with dense, tangled roots that grow above ground and then link up to form interconnected tunnels. They typically grow in tropical, coastal swamps and can withstand flooding when the tide comes in.
They're also known as natural refuges for birds, fish, and wildlife of all kinds. Because they are so dense, they provide natural protection and cover, and because there are natural waterways between mangroves they also provide an opportunity for humans to observe the sights, sounds, and experience of nature without disrupting it.
What is Mangrove Tunnel Kayaking?
The mangrove tunnels of Lido Key are wider and more navigable than most of Florida's mangrove tunnels. They were originally created to allow water flow and decrease the mosquito population. Now, they are one of the premier outdoor activities for ecotourists and nature lovers.

Kayaking the mangrove tunnels takes you through the shaded red mangrove trees. They grow at sea level along the shore and are critical to the South West Florida ecosystem. Fish, birds, crustaceans, and other marine wildlife use the dense mangrove as a nursery for their young. They also act as a buffer, reducing the effect of waves on the coast and absorbing floodwaters. Mangroves are protected by the state of Florida, meaning that mangrove tunnels like ours at Lido Key are rare.

In addition to the small wildlife, you'll see oyster beds, spider crabs, and all sorts of herons and birdlife in the kayak tunnels. In the heat of the summer, the Lido Key mangrove tunnels also provide a cool respite from the sun.
How Do I Get to The Lido Key Mangrove Tunnels?
You can access the Lido Key mangrove tunnels via Ted Sperling Park, located at 190 Taft Drive. The park is county-owned, and as one of the premier kayak rental and tour companies in the Sarasota region, we launch daily from the park. You can book your tour or rental here. Just park in the lot, look for our sign, or ask for Sea Life Kayak and you'll get pointed to us. You can also visit our tour/kayak rentals information page for more information on what to bring with you.